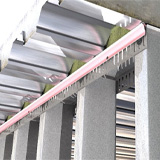 Architectural Fire Rated Joint Assemblies

About the Provider
Founded in 1974, CEMCO is recognized as one of the largest manufacturers of steel framing and metal lath systems in the United States. CEMCO has built its reputation on the finest in quality material, using only mill certified PRIME steel. With over 60 state-of-the-art roll formers, CEMCO is able to handle any small and large construction projects. CEMCO distributes our products throughout the United States, Canada, Mexico, and the Pacific Rim.
Course questions/comments
800.775.2362
Learning Objectives:
Identify a variety of wall-to-wall, bottom-of-wall, and head-of-wall joints, including their UL assemblies and ratings.
Evaluate different joint treatment types for their advantages and disadvantages, particularly in regard to their durability, cost, and safety.
Discuss International Building Code that relates to fire resistant joint systems and firestopping that protects occupants in the event of a fire.
Apply knowledge of IBC standards to specify, install, and operate fire resistance joints to ensure occupant safety.