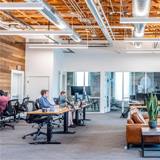 Breathing Freely: How HVAC Systems can Enhance Indoor Environmental and Air Quality

About the Provider
Rheem Commercial Air represents a family of brands that provide heating and cooling solutions in a diverse range of Commercial applications. Manufactured in Fort Smith, Arkansas, Rheem Commercial Air has research, design, manufacturing, and innovative learning facilities throughout North America with products available nationwide through our extensive distributor network. Products are designed using our unique 360+1 Design Philosophy that embodies our commitment to examine every aspect of all products we develop from every angle to ensure we design with performance, installability, serviceability, and durability in mind.
Learning Objectives:
Examine Indoor Air Quality (IAQ), Indoor Environmental Quality (IEQ) and evaluate the health and wellness benefits of designing projects that focus on IAQ & IEQ products, equipment and systems.
Explore building codes, standards and wellness certifications and how a building can meet the criteria to get a health and wellness designation.
Investigate the myriad of applications for IAQ and IEQ associated with HVAC systems that improve the wellbeing of building occupants and healthy building compliance.
Illustrate how HVAC systems can help design professionals achieve healthy building standards that improve IAQ and IEQ by analyzing potential scenarios. In doing so we will highlight key ways HVAC systems contribute to health and wellness criteria.
Design Category:
(23) Heating, Ventilating and Air Conditioning
This Course Is Included In Upcoming Events
8 AIA HSW/LU CE Hour(s)
1 GBCI General Hour
1 RCEP PDH(s) for Engineers