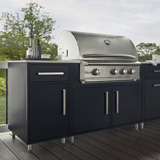 Designing Functional Outdoor Living Space

About the Provider
Wolf Home Products was founded in 1843 as a single store selling dry goods and lumber on the banks of Pennsylvania's Susquehanna River. During the first half of the 1900s, the company expanded into a mid-Atlantic wholesale and retail lumber operation with 30 locations.
By the early 2000s, Wolf transitioned its successful lumber operation into a sourcing organization, offering kitchen, bath, and building products exclusively to independent building materials dealers.
Wolf Home Products continued its growth with the introduction of Wolf-branded product lines in 2010. Today, the company is committed to product and geographic expansion, servicing 3,500+ dealers nationally and in Canada.
Learning Objectives:
Understand the evolution of the outdoor living market. Discuss how new materials have longer sustainability on life cycle costs and how wood and older materials have continued to create maintenance issues and if not maintained can create safety issues with Code related materials on decking and railing.
Address trends and materials used in outdoor living spaces. Trends are moving toward more Aluminum railing items. Some competitors don't have IRC and IBC coded materials in the field.
Apply standard design principles and how they relate to outdoor living spaces. Many of the design principles relate to safety because of life cycle maintenance as well as improper flashing and installation that lead to unsafe building practices.
Identify and explain common misconceptions and safety issues in designing outdoor living spaces. Decking today has many options when it comes to installation and using the proper installation hardware. We review all code rulings for decking and railing.
Explain proper use and care of outdoor living spaces and how to avoid them for extended performance. We review how some chemicals can harm the decking material and which products can be safely used to provide a non-toxic method to maintaining the life of your deck and rail material. Some products can react to PVC and cause issues to the capstop.
Design Category:
(01) Environmental Issues and General Requirements
This Course Is Included In Upcoming Events
8 AIA HSW/LU CE Hour(s)
1 GBCI General Hour
1 RCEP PDH(s) for Engineers