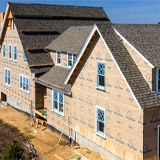 Healthy Home: All Control Layers Working Together

About the Provider
Since 1868, Benjamin Obdyke Incorporated has been a leading designer and provider of residential building products. Our founder, Benjamin P. Obdyke, pioneered the first-generation corrugated downspouts. This innovation ultimately led to the modern day Benjamin Obdyke. Benjamin Obdyke's pioneering spirit remains the hallmark of our company today.
Driven by the goal to always "build better," we constantly develop and add new advances to our product lines by listening to the needs of the building and contracting community, as well as our distribution partners.
Our roof material and wall system products enhance the building system to maximize the performance, durability, and value of a building's most critical elements — its outer structure. In short, when you "build better" with Benjamin Obdyke, you build to last.
Learning Objectives:
Understand why moisture management and drainage gaps, behind claddings, are more critical as we focus more on air tightness in the structure's envelope.
Recognize that a true air barrier is created with a continuous plane around the entire building envelope.
Understand how all control layers in the building envelope work together to prevent failure.
Recognize the importance of communication between trades, design professionals, and manufacturers are vital to ensure proper detailing in the building envelope.
Design Category:
(07) Thermal and Moisture Protection