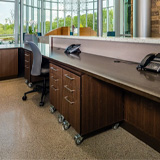 Innovations and Best Practices for Specifying High-Quality Casework

About the Provider
For more than 60 years, Case Systems have prided ourselves on delivering value, quality and the best customer-focused experience in the industry. We began in 1948 as Normal Wood Products, a small, regional supplier in Midland, Michigan, and have grown to become a nationally recognized caseworks producer and market leader.
In the mid-1990s, Bob Bowden and Dave Clark bought the company and began to build the Case Systems brand.
Bowden and Clark expanded our company's sales efforts and provided additional capital, all of which accelerated our rapid growth. We soon outgrew our facility and moved to our current location.
In 2003 we added BOSTONtec to the family. BOSTONtec offers full complementary ergonomic workstations solutions for fulfillment, assembly and laboratory applications.
In November 2011, the portfolio was expanded to include this premium wood casework manufacturer, CiF Lab Solutions. CiF provides "Best-In-Class" wood casework that is designed, produced and installed to complete an AWI Premium installation offered in several selections of wood veneer species.
Today, Case Systems continues to grow and expand our business model to meet and exceed the needs of our customers. We are constantly in a rapid continuous improvement mode to make our total product and service package the best in the industry. Our commitment is to provide the best possible level of service and product to exceed your requirements.
Learning Objectives:
Define areas that need to be included when specifying casework, including edge, core, and hardware. Explain how the proper detailing can lead to a successful project that is aesthetically pleasing and maintains the welfare of building occupants
Compare and contrast different core materials and what unique characteristics they each have regarding safety of building occupants
Identify current trends and code considerations when specifying laminate casework and how adhering to safety standards will produce a project that is durable and environmentally conscious
Discuss how Division 6 and Division 12 specifications and AQI Qualifications impact your casework project
Design Category:
(06) Wood, Plastics and Composites