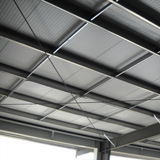 Insulated Roof Decks

About the Provider
All Weather Insulated Panels (AWIP) is an innovator in the design, construction and advancement of foam composite insulated metal panels. We are strategically positioned to meet the growing energy, environmental and economic challenges facing the North American building industry with two state-of-the-art continuous line manufacturing facilities: Vacaville, CA and Little Rock, AR
Learning Objectives:
Understand the concept of Insulated Roof Deck Technology and why they have been developed.
Articulate the benefits of Insulated Roof Decks when compared to more traditional materials used in commercial low slope roofing.
Outline the diaphragm sheer and non-diaphragm options for Insulated Roof Decks.
Realize the proper design & application strategies for Insulated Roof Decks.
Design Category:
(06) Wood, Plastics and Composites
This Course Is Included In Upcoming Events
Up to 8 AIA HSW/LU CE Hour(s)
Up to 6 GBCI General Hour
Up to 2 RCEP PDH(s) for Engineers
Up to 1 IDCEC HSW CEU(s)
Up to 8 AIA HSW/LU CE Hour(s)
Up to 4 GBCI General Hour
Up to 1 RCEP PDH(s) for Engineers
Up to 1 IDCEC HSW CEU(s)