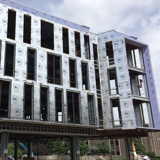 Polyiso - The Next Generation Air & Water Resistive Barrier

About the Provider
Rmax, a business unit of the Sika Corporation, has been creating insulation solutions based on the latest building science since 1978. Our full line of high-quality, polyiso-based wall, roof and specialty insulation products for commercial, industrial and residential applications deliver maximum R-values and minimum environmental impact, with efficiency in installation, cost and design. Rmax insulation has been designed and tested to provide building envelopes with superior insulating protection while meeting the newest codes and requirements. Our engineered products and solutions allow for ultimate efficiency through multiple design options, creating ease of construction and reduced energy usage. This leads to a better building envelope while adding to the bottom-line through both material and labor savings - making Rmax an excellent choice for commercial and residential applications. As new developments in building science emerge, rest assured that Sika-Rmax will remain on the forefront, manufacturing tested, engineered solutions that serve Architects, builders, owners and occupants alike. Our people understand the diverse markets in which our products are used. Their integrity and responsiveness work to your advantage.
Learning Objectives:
Understand how proper building envelope design can contribute to Building Longevity and Sustainability and how these concepts impact making building more energy efficient, as well as increasing indoor air quality and occupant comfort.
Understand how aluminum faced polyiso continuous insulation can provide the Air and Water Resistive Barrier, in addition to providing thermal control, and be incorporated into an NFPA 285 Wall Assembly.
Discuss the benefits obtained from incorporating polyiso continuous insulation in steel stud building envelope design to comply with building and energy codes.
Identify the key properties of polyiso insulation and associated components that should be addressed when specifying and insulation system incorporating Air & Water Resistive Barrier functionality, for optimal energy performance and design efficiency.
Design Category:
(07) Thermal and Moisture Protection
This Course Is Included In Upcoming Events
Up to 8 AIA HSW/LU CE Hour(s)
Up to 7 GBCI General Hour
Up to 2 RCEP PDH(s) for Engineers
Up to 8 AIA HSW/LU CE Hour(s)
Up to 4 GBCI General Hour
Up to 2 RCEP PDH(s) for Engineers
Up to 1 IDCEC HSW CEU(s)
Course Presenter(s)