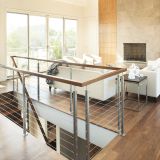 Prefabricated Ornamental Railing Systems

About the Provider
If you're looking to insert a modern design element, railing systems by AGS Stainless provide innovative options for every application. Design consultants at AGS Stainless work with you and/or your contractor to determine the design goals, project scope, and material specifications for providing a detailed cost estimate. All railing systems are custom-designed, built-to-order solutions developed for easy assembly and installation.
AGS Stainless will be there along every step of the way to make sure that your project is completed to satisfy your desires or match your specification.
Course questions/comments
888.842-9492
Learning Objectives:
Explain the advantages of a prefabricated custom railing system in addition to the advantages of an all stainless steel railing system.
Compare and contrast the railing system materials used for posts, top rails, and infill.
Describe common challenges with locally fabricated metal rail systems.
Evaluate how stainless steel railing systems meet health, safety, and welfare requirements.
This Course Is Included In Upcoming Events
Up to 8 AIA HSW/LU CE Hour(s)
Up to 3 GBCI General Hour
Up to 8 AIA HSW/LU CE Hour(s)
Up to 4 AIA HSW/LU CE Hour(s)
Up to 8 AIA HSW/LU CE Hour(s)
Up to 4 GBCI General Hour
Up to 8 AIA HSW/LU CE Hour(s)
Up to 4 GBCI General Hour
Up to 8 AIA HSW/LU CE Hour(s)
Up to 5 GBCI General Hour
Up to 8 AIA HSW/LU CE Hour(s)
Up to 4 GBCI General Hour
Up to 8 AIA HSW/LU CE Hour(s)
Up to 4 GBCI General Hour
Up to 8 AIA HSW/LU CE Hour(s)
Up to 4 GBCI General Hour
Up to 1 RCEP PDH(s) for Engineers