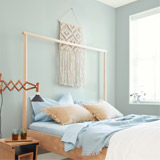 Protecting Your Color Vision

About the Provider
When it comes to premium paints and stains for your home, we have set the standard for excellence. We manufacture our own resins and proprietary Gennex® colorants, which deliver superior performance and application properties in every product. Paired with our incomparable selection of authentic colors, our products are formulated to help you achieve beautiful, lasting results every time you paint.
Learning Objectives:
Understand the four main ingredients in paint and explain the benefits of high-quality pigments and resins
Recognize the limitations of color matching due to the differences in ingredients and color prescriptions and how this impacts the appearance of paint applied to a substrate.
Provide examples that illustrate the relationship between material costs and labor costs, and the impact of specifying premium products.
Distinguish between a detailed paint schedule and a paint schedule that leaves room for interpretation and substitutions.
Understand the concepts that influenced the development of the Color Trends 2022 palette.