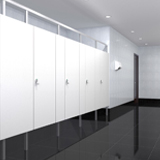 Sustainable and Contemporary Commercial Restroom Materials

About the Provider
Scranton Product's well-known brands feature the most durable, low maintenance and best looking partitions, lockers and industrial sheet products in the industry. They won't dent, rust or need painting, and because they are colored throughout, delamination is not a factor.
Course questions/comments
(800) 445-5148
Learning Objectives:
Identify the strengths and weaknesses of five material options available for restroom partitions to discover products that offer durability, sustainability, and safety features.
Discuss the characteristics of HDPE and explain how it promotes a healthier environment for building occupants.
Analyze why the life-cycle assessment and the life-cycle cost analysis are having an impact on product specification and how that is affecting green building certification programs.
Explain ways that manufacturers can make conscientious choices that specifically benefit the environment and why those business practices should be considered when specifying products have the capacity to contribute to a healthier environment for people.