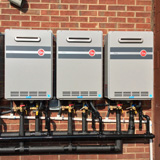 Understanding Hot Water Consumption, Energy Use & System Efficiencies with HVAC Heat Recovery in High Use Facilities

About the Provider
Rheem Commercial Air represents a family of brands that provide heating and cooling solutions in a diverse range of Commercial applications. Manufactured in Fort Smith, Arkansas, Rheem Commercial Air has research, design, manufacturing, and innovative learning facilities throughout North America with products available nationwide through our extensive distributor network. Products are designed using our unique 360+1 Design Philosophy that embodies our commitment to examine every aspect of all products we develop from every angle to ensure we design with performance, installability, serviceability, and durability in mind.
Learning Objectives:
Recall the unique water heating requirements of a high use facility such as restaurants to ensure daily operations can proceed safely and efficiently
List the three factors to consider when determining the hot water demand of a facility and how to calculate the BTUs required to meet a building's needs
Discuss how thermal loss impacts a water heating system's efficiency, as well as the thermal efficiency available with different water heating methods
Illustrate the energy savings and cost savings possible by utilizing emerging energy recovery technologies that increase the efficiency of water heating systems, especially in markets focused on electrification of heat
Design Category:
(23) Heating, Ventilating and Air Conditioning
This Course Is Included In Upcoming Events
Up to 8 AIA HSW/LU CE Hour(s)
Up to 4 GBCI General Hour
Up to 1 ADA Accessibility / Barrier-Free Req.
Up to 8 AIA HSW/LU CE Hour(s)
Up to 4 GBCI General Hour