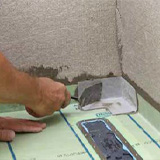 Why Did the Waterproofing Fail?

About the Provider
Founded in 1946, Noble Company manufactures premium-quality, innovative products for the Tile, Plumbing, Heating and Cooling, and Fire Sprinkler industries.
Noble Company product applications include Waterproofing, Crack Prevention, and Sound Reduction under tile flooring. The Engineered Fluids Division manufactures freeze protection fluids for various applications such as Hydronic under-floor heating, Solar Heating Systems, Geothermal Systems, and Fire Sprinkler Systems.
Noble Company is an American-based company, manufacturing products in Michigan and Louisiana. Our products are designed and manufactured to exceed applicable industry standards and are engineered for reliability. We are proud to have product in some of the highest profile projects in the world such as the: Burj Khalifa (Dubai), City Center (Las Vegas), and Laguna Honda Hospital (California).
Learning Objectives:
Review common waterproofing products, installation methods, and building code compliance.
Understand the relationship of movement in the surface and substrate to waterproofing.
Understand reasons for failures in waterproofing installations under tile and the relationship of failed waterproofing to durability and Sustainable Design.
Understand permeation and its impact on creating suitable water and vapor barriers for tile installations and the relationship of permeation to Indoor Air Quality.
This Course Is Included In Upcoming Events
8 AIA HSW/LU CE Hour(s)
5 GBCI General Hour
1 RCEP PDH(s) for Engineers