Web-Series for Southwest Region - Session Four

Web-Series for Southwest Region - Session Four
Available Credits
2 RCEP PDH(s) for Engineers
JOIN US EACH AFTERNOON • FREE TO ATTEND! • ATTENDANCE REPORTED ON A PER-PRESENTATION BASIS
Event Agenda
Wednesday, September 14, 2022
Wednesday, September 14, 2022 | 10:00 am Central
Wednesday, September 14, 2022 | 11:00 am Central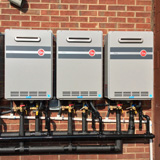 1 AIA HSW/LU CE Hour(s)
1 RCEP PDH(s) for Engineers
Learning Objectives:
Recall the unique water heating requirements of a high use facility such as restaurants to ensure daily operations can proceed safely and efficiently
List the three factors to consider when determining the hot water demand of a facility and how to calculate the BTUs required to meet a building's needs
Discuss how thermal loss impacts a water heating system's efficiency, as well as the thermal efficiency available with different water heating methods
Illustrate the energy savings and cost savings possible by utilizing emerging energy recovery technologies that increase the efficiency of water heating systems, especially in markets focused on electrification of heat

Wednesday, September 14, 2022 | 1:00 pm Central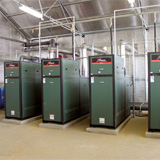 1 AIA HSW/LU CE Hour(s)
1 RCEP PDH(s) for Engineers
Learning Objectives:
Review combustion fundamentals and differentiate between condensing and non-condensing water heater systems
Discuss how misapplication of water heaters and boilers can cause major concerns and dangerous environments for contractors and occupants
Identify the end results of poor venting, including increased liability, destroyed boiler components, and potential risks to occupant safety
Recall minimum combustible clearance and minimum service clearance guidelines and articulate the importance of proper service clearance for operation and safety
Judge real world applications for proper venting, clearance, piping, and other processes to ensure best practices and guidelines have been followed

Wednesday, September 14, 2022 | 2:00 pm Central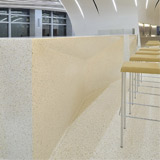 Learning Objectives:
Explain what terrazzo is, its rich history, and why it should be specified. It will give the definition, and list components. Endless color options and various aggregates will be discussed.
Explore the green elements and sustainability of terrazzo. The original recycled flooring, terrazzo has proven to last over 100 years in buildings and survive hurricanes and flooding events.
Discuss renovation of old buildings through the use of terrazzo and restoration of old terrazzo.
Discuss the many forms terrazzo takes from floors to walls, stairs, curbs, and countertops in both interior and exterior settings. It will explain how a change in aggregate size can enhance the design. It will show how elements like LED lights can be incorporated into the floor.
Explain the types of systems available in terrazzo and their installation.
Explore a series of design possibilities for all variations of terrazzo.

This Event Is Intended for the Following Regions:
Click a region to view state CE requirements