Phoenix, AZ - Tuesday August 22, 2023

Event Date
Tuesday August 22, 2023
Available Credits
Up to 8 AIA HSW/LU CE Hour(s)
Up to 4 GBCI General Hour
Up to 1 RCEP PDH(s) for Engineers
4608 W. Elwood St.
Phoenix, AZ 85043
JOIN US IN YOUR CITY • REGISTER BELOW • ATTENDANCE REPORTED ON A PER-PRESENTATION BASIS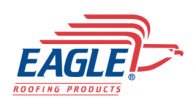 Founded over 25 years ago, Eagle began operations in the fall of 1989 with one high-pressure concrete tile extrusion machine. Today, Eagle's Rialto, California facility is the largest in North America. Eagle has grown to eight design centers and a workforce of over 500 employees that are knowledgeable on not only concrete roof tile but regional trends and needs. Our expertise, coupled by our extensive array of profiles and colors, enables us to provide our customers with high quality concrete...
Event Agenda
Tuesday, August 22, 2023
7:30 am
8:00 am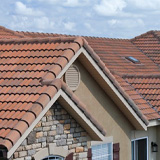 1 AIA HSW/LU CE Hour(s)
1 GBCI General Hour
Learning Objectives:
Discuss how the versatility of concrete tile roofing combined with its durability makes it one of the most sustainable roofing products available
Consider the value of products composed of a small number of raw materials that are sustainable, including some recycled materials
Review the near zero waste manufacturing process of concrete roof tiles from thae introduction of raw materials to the finished product
Compare and contrast an installation method that exploits the air permeable characteristics of concrete tile roofs versus temporary roofing materials
Identify key performance characteristics of concrete tile roofing including wind and hail resistance
Analyze the longevity, durability, and overall life cycle cost analysis of concrete roof tile compared to asphalt shingles, wood shakes, slate, and metal
Confidently specify concrete tile roofing as an alternative to slate, metal, wood shakes, and temporary asphalt shingles

9:10 am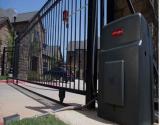 Learning Objectives:
Compare the functions of various stiles of commercial doors.
Describe the types of commercial door operators.
Discuss the features of reduction systems and solenoid brakes, as well as the NEMA ratings for enclosures.
Explain the requirements of UL 325 and how it contributes to the safe operation of commercial doors.
List the devices that meet the UL standard and describe their features.

10:20 am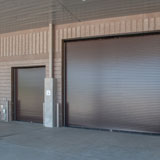 Learning Objectives:
Understand the different types and applications of high performance high speed rolling doors and how they help ensure the safety and welfare of the occupants
Understand how high performance high speed rolling doors contribute to the sustainable design principles and energy efficient building design
Increase the welfare of the building operators with, Increase productivity, Reduce operational and energy costs, Enhance safety of building operators, and Enhance security
Evaluate key criteria to select and specify the appropriate doors for various applications, by understanding the different features and options

11:30 am
1 AIA HSW/LU CE Hour(s)
1 GBCI General Hour
1 IDCEC HSW CEU(s)
Learning Objectives:
Identify how to design a touchless, hygienic restroom environment that supports health and wellbeing
Define proper hand hygiene techniques and the role it plays in commercial restroom design
Detail how including hand dryers in your commercial restroom design can mitigate the spread of germs improving workplace health and safety
Recognize key sustainability attributes of hand dryers, and the future evolution of commercial restroom design

12:30 pm
1:00 pm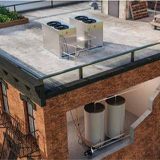 1 AIA HSW/LU CE Hour(s)
1 RCEP PDH(s) for Engineers
Learning Objectives:
Identify how a commercial air to water heat pump works by heating stored water using ambient air
Discuss the many benefits of a commercial heat pump water heater split system, including increased sustainability, efficiency, and durability
Explain some pro's and con's of R134a and Co2 refrigerants
Compare and contrast multi-pass and single pass systems and identify best practices for heat pumps and storage tanks to ensure installer and occupant safety
Illustrate the many applications of commercial heat pump water heater split systems in a variety of markets such as foodservice, multi-family, and industrial
Describe basic maintenance needed to ensure commercial heat pump water heater split systems and storage tanks are operating efficiently and safely

2:10 pm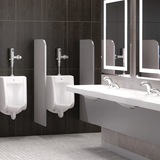 1 AIA HSW/LU CE Hour(s)
1 ASPE CE Hour
1 IDCEC HSW CEU(s)
Learning Objectives:
Discuss how handwashing systems streamline the restroom ecosystem, improving effectiveness and reliability.
Explain the health benefits of utilizing touchless sensor faucets and soap dispensers in commercial restrooms
Compare material options and features of sensor flush valves for durability, sustainability, and performance
Illustrate how to specify IoT connected plumbing fixtures and other features to create a smart commercial restroom

3:20 pm
4:30 pm
COVID-19 Protocols
Just like you, we are excited for the opportunity to resume live events. That being said, the health and safety of our attendees and presenters is our prime concern so, in addition to specific venue infection prevention procedures, we are doing the following:
Requiring that any presenter or attendee with any COVID-19 symptoms not attend the event (full refunds given, no matter how late the notice)
Working with venues to allow for social distancing while seated at the event
Providing hand sanitizer at the entrance to the presentation space
Following best practices for food distribution at the event
Monitoring and following local guidelines/mandates for infection prevention
State CE Requirements
Arizona Board of Technical Registration of Architects
Total Hours Required:
No State Mandated Continuing Education Requirement