Phoenix, AZ - Tuesday September 6, 2022

Event Date
Tuesday September 6, 2022
Available Credits
Up to 8 AIA HSW/LU CE Hour(s)
Up to 5 GBCI General Hour
Up to 1 RCEP PDH(s) for Engineers
4608 W. Elwood St.
Phoenix, AZ 85043
JOIN US IN YOUR CITY • REGISTER BELOW • ATTENDANCE REPORTED ON A PER-PRESENTATION BASIS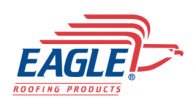 Founded over 25 years ago, Eagle began operations in the fall of 1989 with one high-pressure concrete tile extrusion machine. Today, Eagle's Rialto, California facility is the largest in North America. Eagle has grown to eight design centers and a workforce of over 500 employees that are knowledgeable on not only concrete roof tile but regional trends and needs. Our expertise, coupled by our extensive array of profiles and colors, enables us to provide our customers with high quality concrete...
Event Agenda
Tuesday, September 6, 2022
7:30 am
8:00 am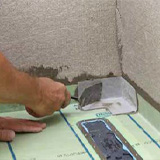 1 AIA HSW/LU CE Hour(s)
1 GBCI General Hour
Learning Objectives:
Review common waterproofing products, installation methods, and building code compliance.
Understand the relationship of movement in the surface and substrate to waterproofing.
Understand reasons for failures in waterproofing installations under tile and the relationship of failed waterproofing to durability and Sustainable Design.
Understand permeation and its impact on creating suitable water and vapor barriers for tile installations and the relationship of permeation to Indoor Air Quality.

9:10 am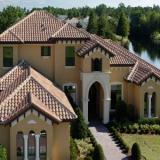 Learning Objectives:
Describe the use of extrusion to create long lasting and waterproof roofing tiles, and describe the "circuit approach"
Distinguish between continuous mix systems and batch mix color systems
Examine the sustainable nature of the concrete roof tile manufacturing process from the reuse of water to the reintroduction of crushed/rejected tiles into the manufacturing process
Articulate the various test standards utilized to ensure concrete roof tile's quality

10:20 am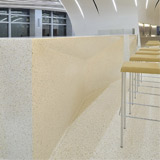 Learning Objectives:
Explain what terrazzo is, its rich history, and why it should be specified. It will give the definition, and list components. Endless color options and various aggregates will be discussed.
Explore the green elements and sustainability of terrazzo. The original recycled flooring, terrazzo has proven to last over 100 years in buildings and survive hurricanes and flooding events.
Discuss renovation of old buildings through the use of terrazzo and restoration of old terrazzo.
Discuss the many forms terrazzo takes from floors to walls, stairs, curbs, and countertops in both interior and exterior settings. It will explain how a change in aggregate size can enhance the design. It will show how elements like LED lights can be incorporated into the floor.
Explain the types of systems available in terrazzo and their installation.
Explore a series of design possibilities for all variations of terrazzo.

11:30 am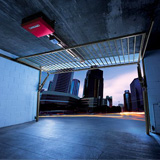 Learning Objectives:
Identify the types of gate operators that are used to maneuver the various gates that are available
Explain how to identify entrapment zone's, and how to place entrapment protection devices to meet the standards, as well as explain the difference between monitored and non-monitored entrapment protection devices
Define the requirements of the UL 325 and ASTM F2200 standards as they apply to gate and gate operator installations
Define the type's of gates that are available in today's market place

12:30 pm
1:00 pm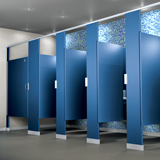 1 AIA HSW/LU CE Hour(s)
1 GBCI General Hour
Learning Objectives:
Recognize the threat of infectious bacteria on high-touch surfaces in restrooms, focusing on the harm that infected partitions and handles can have on occupants' health
Describe the safe and sustainable characteristics of HDPE and explain how it promotes a healthier environment for building occupants
Illustrate the efficacy of copper at inhibiting infectious bacteria and compare it to other materials that claim antimicrobial properties
Evaluate the sustainable practices of manufacturers in order to specify quality HDPE + Copper products that are safe for both the environment and occupants

2:10 pm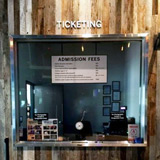 Learning Objectives:
Define & clarify the types of bullet resistant protection levels.
Evaluate & recognize where and when to specify security windows and pass thru devices.
Specify correct products to support the design criteria.
Distinguish the differences of fire-rated applications along with added security measures and how they overlap.

3:20 pm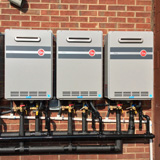 1 AIA HSW/LU CE Hour(s)
1 RCEP PDH(s) for Engineers
Learning Objectives:
Recall the unique water heating requirements of a high use facility such as restaurants to ensure daily operations can proceed safely and efficiently
List the three factors to consider when determining the hot water demand of a facility and how to calculate the BTUs required to meet a building's needs
Discuss how thermal loss impacts a water heating system's efficiency, as well as the thermal efficiency available with different water heating methods
Illustrate the energy savings and cost savings possible by utilizing emerging energy recovery technologies that increase the efficiency of water heating systems, especially in markets focused on electrification of heat

4:30 pm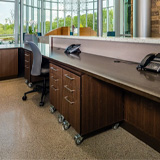 1 AIA HSW/LU CE Hour(s)
1 GBCI General Hour
Learning Objectives:
Define areas that need to be included when specifying casework, including edge, core, and hardware. Explain how the proper detailing can lead to a successful project that is aesthetically pleasing and maintains the welfare of building occupants
Compare and contrast different core materials and what unique characteristics they each have regarding safety of building occupants
Identify current trends and code considerations when specifying laminate casework and how adhering to safety standards will produce a project that is durable and environmentally conscious
Discuss how Division 6 and Division 12 specifications and AQI Qualifications impact your casework project

COVID-19 Protocols
Just like you, we are excited for the opportunity to resume live events. That being said, the health and safety of our attendees and presenters is our prime concern so, in addition to specific venue infection prevention procedures, we are doing the following:
Requiring that any presenter or attendee with any COVID-19 symptoms not attend the event (full refunds given, no matter how late the notice)
Working with venues to allow for social distancing while seated at the event
Providing hand sanitizer at the entrance to the presentation space
Following best practices for food distribution at the event
Monitoring and following local guidelines/mandates for infection prevention
State CE Requirements
Arizona Board of Technical Registration of Architects
Total Hours Required:
No State Mandated Continuing Education Requirement