St. Rose, LA - Thursday October 6, 2022

Event Date
Thursday October 6, 2022
Available Credits
Up to 8 AIA HSW/LU CE Hour(s)
Up to 4 GBCI General Hour
Associated Builders & Contractors New Orleans/Bayou Chapter
101 Riverbend Drive
St. Rose, LA 70087
JOIN US IN YOUR CITY • REGISTER BELOW • ATTENDANCE REPORTED ON A PER-PRESENTATION BASIS

Coordinates efforts to legislation, ordinances, and codes at all levels of government. Periodically reviews by-laws of organization and make recommendations of modifications required. Oversees efforts to grow membership, invigorate existing members and retention, track relevant statistics and demographics, and recruit attendees to programming. Carries through board-directed special fundraising efforts, sponsorships, and/or networking relationships while conducting secure, transparent, and tim...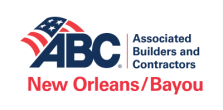 THE VOICE OF THE MERIT SHOP® Associated Builders and Contractors (ABC) is a national construction industry trade association representing more than 21,000 members. Founded on the merit shop philosophy, ABC and its 68 Chapters help members develop people, win work and deliver that work safely, ethically and profitably for the betterment of the communities in which ABC and its members work. ABC's membership represents all specialties within the U.S. construction industry and is comprised primar...
Event Agenda
Thursday, October 6, 2022
8:00 am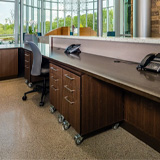 1 AIA HSW/LU CE Hour(s)
1 GBCI General Hour
Learning Objectives:
Define areas that need to be included when specifying casework, including edge, core, and hardware. Explain how the proper detailing can lead to a successful project that is aesthetically pleasing and maintains the welfare of building occupants
Compare and contrast different core materials and what unique characteristics they each have regarding safety of building occupants
Identify current trends and code considerations when specifying laminate casework and how adhering to safety standards will produce a project that is durable and environmentally conscious
Discuss how Division 6 and Division 12 specifications and AQI Qualifications impact your casework project

9:10 am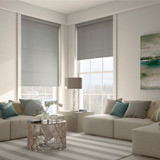 1 AIA HSW/LU CE Hour(s)
1 IDCEC HSW CEU(s)
Learning Objectives:
Translucent vs. Transparent Fabrics: Creating the best Environment for Occupancy Comfort.
The Global Impact of Sustainable Fabrics.
Antimicrobial Fabrics: How Roller Shade Fabric can help prevent the growth and spread of bacteria.
Evaluate Energy Efficient Alternative Fabrics and the impact to reduce the building energy consumption.

10:20 am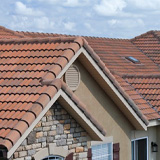 1 AIA HSW/LU CE Hour(s)
1 GBCI General Hour
Learning Objectives:
Discuss how the versatility of concrete tile roofing combined with its durability makes it one of the most sustainable roofing products available
Consider the value of products composed of a small number of raw materials that are sustainable, including some recycled materials
Review the near zero waste manufacturing process of concrete roof tiles from thae introduction of raw materials to the finished product
Compare and contrast an installation method that exploits the air permeable characteristics of concrete tile roofs versus temporary roofing materials
Identify key performance characteristics of concrete tile roofing including wind and hail resistance
Analyze the longevity, durability, and overall life cycle cost analysis of concrete roof tile compared to asphalt shingles, wood shakes, slate, and metal
Confidently specify concrete tile roofing as an alternative to slate, metal, wood shakes, and temporary asphalt shingles

11:30 am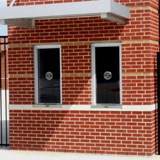 Learning Objectives:
Define & clarify the types of bullet resistant protection levels
Evaluate & recognize where and when to specify security windows and pass thru devices
Specify correct products to support the design criteria
Distinguish the differences of fire-rated applications along with added security measures and how they overlap

12:30 pm
1:00 pm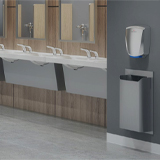 1 AIA HSW/LU CE Hour(s)
1 GBCI General Hour
Learning Objectives:
Identify emerging trends in public restroom design and how multi-stall restrooms address users' concerns of privacy and hygiene
Evaluate partition materials and types to ensure public restroom stalls are designed to be safe, sustainable, and accessible for all users
Illustrate how touchless restroom fixtures promote sanitation and water efficiency
Demonstrate how warm air hand dryers equipped with HEPA filters can encourage proper hand hygiene and sustainability

2:10 pm
3:20 pm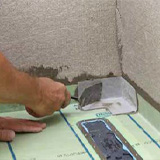 1 AIA HSW/LU CE Hour(s)
1 GBCI General Hour
Learning Objectives:
Review common waterproofing products, installation methods, and building code compliance.
Understand the relationship of movement in the surface and substrate to waterproofing.
Understand reasons for failures in waterproofing installations under tile and the relationship of failed waterproofing to durability and Sustainable Design.
Understand permeation and its impact on creating suitable water and vapor barriers for tile installations and the relationship of permeation to Indoor Air Quality.

4:30 pm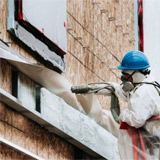 Learning Objectives:
Understand the basic differences between open-cell and closed-cell spray foam insulation
Gain an understanding of typical building code requirements for foam plastic such as spray foam insulation
Understand the impact of spray foam insulation on a building's energy performance and HVAC sizing
Be able to create advanced designs using spray foam insulation that will result in better indoor air quality and increased interior comfort.

COVID-19 Protocols
Just like you, we are excited for the opportunity to resume live events. That being said, the health and safety of our attendees and presenters is our prime concern so, in addition to specific venue infection prevention procedures, we are doing the following:
Requiring that any presenter or attendee with any COVID-19 symptoms not attend the event (full refunds given, no matter how late the notice)
Working with venues to allow for social distancing while seated at the event
Providing hand sanitizer at the entrance to the presentation space
Following best practices for food distribution at the event
Monitoring and following local guidelines/mandates for infection prevention
State CE Requirements
Louisiana Board of Architectural Examiners