Web-Series for Southwest Region - Session Three

Web-Series for Southwest Region - Session Three
Available Credits
2 RCEP PDH(s) for Engineers
JOIN US EACH AFTERNOON • FREE TO ATTEND! • ATTENDANCE REPORTED ON A PER-PRESENTATION BASIS
Event Agenda
Wednesday, August 24, 2022
Wednesday, August 24, 2022 | 10:00 am Central
Wednesday, August 24, 2022 | 11:00 am Central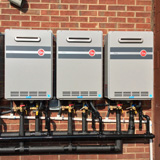 1 AIA HSW/LU CE Hour(s)
1 RCEP PDH(s) for Engineers
Learning Objectives:
Recall the unique water heating requirements of a high use facility such as restaurants to ensure daily operations can proceed safely and efficiently
List the three factors to consider when determining the hot water demand of a facility and how to calculate the BTUs required to meet a building's needs
Discuss how thermal loss impacts a water heating system's efficiency, as well as the thermal efficiency available with different water heating methods
Illustrate the energy savings and cost savings possible by utilizing emerging energy recovery technologies that increase the efficiency of water heating systems, especially in markets focused on electrification of heat

Wednesday, August 24, 2022 | 1:00 pm Central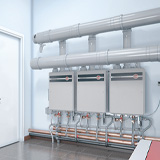 1 AIA HSW/LU CE Hour(s)
1 RCEP PDH(s) for Engineers
Learning Objectives:
Compare and contrast standard efficiency and high efficiency gas water heaters for energy consumption, cost savings, and environmental impact
Model best practices for converting from existing standard gas water heaters to high efficiency gas water heaters so projects remain cost-effective and time efficient
Determine the correct water heater for different applications based on time, temperature, and quantity to improve thermal efficiency and occupant comfort
Illustrate best practices for piping and venting multiple water heaters to ensure projects are safe and code compliant
Recall advanced and emerging technologies in water heating that improve on efficiency and building integration

Wednesday, August 24, 2022 | 2:00 pm Central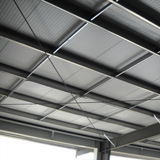 Learning Objectives:
Understand the concept of Insulated Roof Deck Technology and why they have been developed.
Articulate the benefits of Insulated Roof Decks when compared to more traditional materials used in commercial low slope roofing.
Outline the diaphragm sheer and non-diaphragm options for Insulated Roof Decks.
Realize the proper design & application strategies for Insulated Roof Decks.

This Event Is Intended for the Following Regions:
Click a region to view state CE requirements