Charlotte, NC - Thursday March 16, 2023

Event Date
Thursday March 16, 2023
Available Credits
Up to 8 AIA HSW/LU CE Hour(s)
Up to 3 GBCI General Hour
4400 Sharon Rd
Charlotte, NC 28211
JOIN US IN YOUR CITY • REGISTER BELOW • ATTENDANCE REPORTED ON A PER-PRESENTATION BASIS

Founded in 1954 by Emmanuel Mullet, Wayne Dalton was built on a dedication to ingenuity and customer service. As our business grew, so did our commitment to expanding our product lines, leading the company to become one of the largest door manufacturers in the United States. Since the beginning, we've remained committed to being the garage door partner whose innovation drives dealer productivity and provides industry-leading garage door solutions. In an effort to continue this innovation, Wa...
Event Agenda
Thursday, March 16, 2023
7:30 am
8:00 am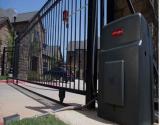 Learning Objectives:
Compare the functions of various stiles of commercial doors.
Describe the types of commercial door operators.
Discuss the features of reduction systems and solenoid brakes, as well as the NEMA ratings for enclosures.
Explain the requirements of UL 325 and how it contributes to the safe operation of commercial doors.
List the devices that meet the UL standard and describe their features.

9:10 am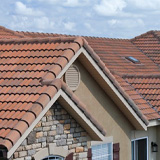 1 AIA HSW/LU CE Hour(s)
1 GBCI General Hour
Learning Objectives:
Discuss how the versatility of concrete tile roofing combined with its durability makes it one of the most sustainable roofing products available
Consider the value of products composed of a small number of raw materials that are sustainable, including some recycled materials
Review the near zero waste manufacturing process of concrete roof tiles from thae introduction of raw materials to the finished product
Compare and contrast an installation method that exploits the air permeable characteristics of concrete tile roofs versus temporary roofing materials
Identify key performance characteristics of concrete tile roofing including wind and hail resistance
Analyze the longevity, durability, and overall life cycle cost analysis of concrete roof tile compared to asphalt shingles, wood shakes, slate, and metal
Confidently specify concrete tile roofing as an alternative to slate, metal, wood shakes, and temporary asphalt shingles

10:20 am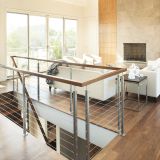 Learning Objectives:
Explain the advantages of a prefabricated custom railing system in addition to the advantages of an all stainless steel railing system.
Compare and contrast the railing system materials used for posts, top rails, and infill.
Describe common challenges with locally fabricated metal rail systems.
Evaluate how stainless steel railing systems meet health, safety, and welfare requirements.

11:30 am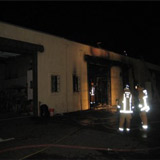 Learning Objectives:
Understand how the different applications and types of coiling fire doors apply to the safety and welfare of the building occupants
Understand how coiling fire door codes and standards help ensure the safety and welfare of the building occupants
Understand the different methods of fire door operation
Understand how coiling fire door components and the different automatic closing devices affect the safety and welfare of the building occupants

12:30 pm
1:00 pm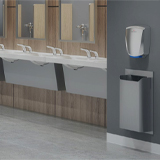 1 AIA HSW/LU CE Hour(s)
1 GBCI General Hour
Learning Objectives:
Identify emerging trends in public restroom design and how multi-stall restrooms address users' concerns of privacy and hygiene
Evaluate partition materials and types to ensure public restroom stalls are designed to be safe, sustainable, and accessible for all users
Illustrate how touchless restroom fixtures promote sanitation and water efficiency
Demonstrate how warm air hand dryers equipped with HEPA filters can encourage proper hand hygiene and sustainability

2:10 pm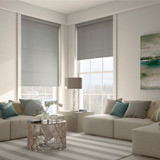 1 AIA HSW/LU CE Hour(s)
1 IDCEC HSW CEU(s)
Learning Objectives:
Translucent vs. Transparent Fabrics: Creating the best Environment for Occupancy Comfort.
The Global Impact of Sustainable Fabrics.
Antimicrobial Fabrics: How Roller Shade Fabric can help prevent the growth and spread of bacteria.
Evaluate Energy Efficient Alternative Fabrics and the impact to reduce the building energy consumption.

3:20 pm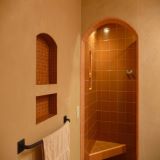 Learning Objectives:
Examine the history of large-format finished surfaces in wet areas/showers.
Review the nature of vapor migration in wet areas and the role waterproofing membranes play in vapor containment, as well as best practices.
Highlight misinformation, misperceptions, and ineffective installation practices which are fueling the increase in shortened life cycles of shower enclosures.
Project Planning & Design
Building Systems, Materials, & Assemblies

4:30 pm
COVID-19 Protocols
Just like you, we are excited for the opportunity to resume live events. That being said, the health and safety of our attendees and presenters is our prime concern so, in addition to specific venue infection prevention procedures, we are doing the following:
Requiring that any presenter or attendee with any COVID-19 symptoms not attend the event (full refunds given, no matter how late the notice)
Working with venues to allow for social distancing while seated at the event
Providing hand sanitizer at the entrance to the presentation space
Following best practices for food distribution at the event
Monitoring and following local guidelines/mandates for infection prevention
State CE Requirements
North Carolina Board of Architecture