Boston, MA - Thursday December 15, 2022

Event Date
Thursday December 15, 2022
Available Credits
Up to 8 AIA HSW/LU CE Hour(s)
Up to 5 GBCI General Hour
Up to 1 RCEP PDH(s) for Engineers
Maggiano's Little Italy - Boston
4 Columbus Avenue
Boston, MA 02116
JOIN US IN YOUR CITY • REGISTER BELOW • ATTENDANCE REPORTED ON A PER-PRESENTATION BASIS
Event Agenda
Thursday, December 15, 2022
7:30 am
8:00 am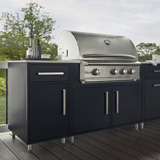 1 AIA HSW/LU CE Hour(s)
1 GBCI General Hour
Learning Objectives:
Understand the evolution of the outdoor living market. Discuss how new materials have longer sustainability on life cycle costs and how wood and older materials have continued to create maintenance issues and if not maintained can create safety issues with Code related materials on decking and railing.
Address trends and materials used in outdoor living spaces. Trends are moving toward more Aluminum railing items. Some competitors don't have IRC and IBC coded materials in the field.
Apply standard design principles and how they relate to outdoor living spaces. Many of the design principles relate to safety because of life cycle maintenance as well as improper flashing and installation that lead to unsafe building practices.
Identify and explain common misconceptions and safety issues in designing outdoor living spaces. Decking today has many options when it comes to installation and using the proper installation hardware. We review all code rulings for decking and railing.
Explain proper use and care of outdoor living spaces and how to avoid them for extended performance. We review how some chemicals can harm the decking material and which products can be safely used to provide a non-toxic method to maintaining the life of your deck and rail material. Some products can react to PVC and cause issues to the capstop.

9:10 am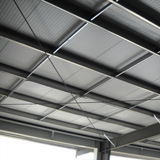 1 AIA HSW/LU CE Hour(s)
1 GBCI General Hour
Learning Objectives:
Understand the concept of Insulated Roof Deck Technology and why they have been developed.
Articulate the benefits of Insulated Roof Decks when compared to more traditional materials used in commercial low slope roofing.
Outline the diaphragm sheer and non-diaphragm options for Insulated Roof Decks.
Realize the proper design & application strategies for Insulated Roof Decks.

10:20 am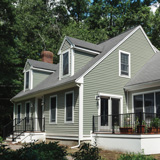 1 AIA HSW/LU CE Hour(s)
1 GBCI General Hour
Learning Objectives:
Examine latest trends in exterior moisture management systems.
Understand how the combination of PVC siding and a drainable weather resistant barrier provide a superior moisture management system.
Compare and contrast different siding substrates and installation methods
Explain the role exterior siding plays in a total moisture management solution.

11:30 am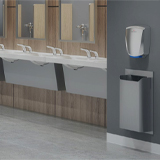 1 AIA HSW/LU CE Hour(s)
1 GBCI General Hour
Learning Objectives:
Identify emerging trends in public restroom design and how multi-stall restrooms address users' concerns of privacy and hygiene
Evaluate partition materials and types to ensure public restroom stalls are designed to be safe, sustainable, and accessible for all users
Illustrate how touchless restroom fixtures promote sanitation and water efficiency
Demonstrate how warm air hand dryers equipped with HEPA filters can encourage proper hand hygiene and sustainability

12:30 pm
1:00 pm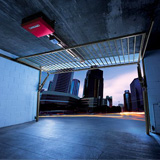 1 AIA HSW/LU CE Hour(s)
1 GBCI General Hour
Learning Objectives:
Identify the types of gate operators that are used to maneuver the various gates that are available
Explain how to identify entrapment zone's, and how to place entrapment protection devices to meet the standards, as well as explain the difference between monitored and non-monitored entrapment protection devices
Define the requirements of the UL 325 and ASTM F2200 standards as they apply to gate and gate operator installations
Define the type's of gates that are available in today's market place

2:10 pm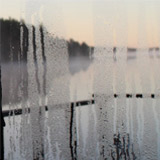 1 AIA HSW/LU CE Hour(s)
1 RCEP PDH(s) for Engineers
Learning Objectives:
Recall the three main zone variables—temperature, humidity, and particulates—and discuss their impact on a building's indoor air quality and occupant health
Explain how implementing a reheat design improves upon the standard heating and cooling scenario to provide optimal humidity levels
Define neutral air and discuss its role in providing ideal zone conditions with optimal temperature and humidity levels
Illustrate how to incorporate emerging technologies into new and existing projects in order to control temperature and humidity

3:20 pm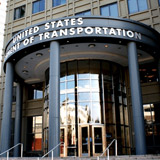 Learning Objectives:
Identify security threats which dictate design standards and product performance criteria
Compare and contrast design options to fortify buildings with security, safety, and aesthetics in mind
Define the different levels of ballistic, blast, and forced entry testing standards
Properly specify ballistic, blast, forced entry and storm impact fenestration solutions

4:30 pm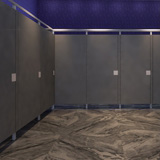 Learning Objectives:
Discuss public restroom evolution and how current trends are changing the way we design restrooms
Explain the increasing demand for higher privacy and how specific partitions and accessories can be utilized to promote privacy and personal well-being
Compare and contrast the various partition materials and styles available, focusing on which ones help create a safe and hygienic restroom environment for users
Discuss the production process of HDPE partitions and how this contributes to a more sustainable, healthier indoor environment

COVID-19 Protocols
Just like you, we are excited for the opportunity to resume live events. That being said, the health and safety of our attendees and presenters is our prime concern so, in addition to specific venue infection prevention procedures, we are doing the following:
Requiring that any presenter or attendee with any COVID-19 symptoms not attend the event (full refunds given, no matter how late the notice)
Working with venues to allow for social distancing while seated at the event
Providing hand sanitizer at the entrance to the presentation space
Following best practices for food distribution at the event
Monitoring and following local guidelines/mandates for infection prevention
State CE Requirements
Massachusetts Board of Registration of Architects